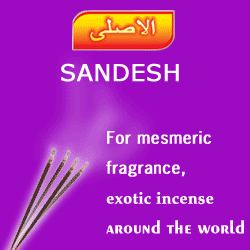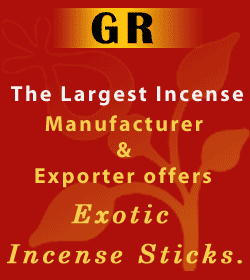 | | | |
| --- | --- | --- |
| | Cultural variation | |
| | | |
| --- | --- | --- |
| | Forms | |
| | | |
| --- | --- | --- |
| | Arena of Aroma | |
Padma Perfumery Works

Replenish your senses!
| | | | | |
| --- | --- | --- | --- | --- |
| Rose Incense | White Musk Incense | Al Oudh Incense | Sheik Al Arab Blue | Jasmine Incense |
| | | | | |
| | | | | |
Home
>

Incense Products
Types of Incense Sticks



There are lots of different varieties of incense, incense sticks and other incense products. Incense are made from different types of herbs, flowers, fruits, trees, plants, and other biotic material. Thus types of a incense depend on several factors such as raw material, purpose and the shape of the products. Below listed are some of the most common types of incense which are popular worldwide.


Herbal Incense
Herbal incense is probably the most widely used one in aromatherapies for its numerous health benefits. The extract of various benefiting herbs like Lavender, Basil, Tea Tree, Nettle, Rosemary, Dandelion etc. are used to obtain the respective essential oils, which are further used in aroma therapies.


Fruity Incense
Since time immemorial, we burn incense sticks at our home, worship places and even work places. The experience of pleasant fragrance imbibes a positive feeling in us. Incense sticks are prepared using extracts of fragrant herbs, resins, fruits, flowers etc.


Fancy Incense Sticks
Burning incense sticks can be very beneficial in generating a positive, lively and spiritual environment around us. Under such an Fancy Incense Sticksatmosphere, we feel more relaxed, involved and can concentrate in whatever we are doing.


Spicy Incense Sticks
For spices like Turmeric, chili powder, salt etc, its like they have assigned roles to Spicy Incense Sticksplay in our cooking, salt for taste, turmeric for color etc. But there are certain spices like Cardamom, Cinnamon, Clove, without these also we can prepare our recopies yet they are integral part of kitchens, especially an Indian kitchen.


Dhoop Batti
In our Indian society, Dhoop, Dhoopbatti, Agarbatti, all these are usually taken as synonymous of incense sticks because these are Dhoop Batti burnt for fragrance. But, Dhoop or Dhoop Batti is not same with agarbatti.


Incense Burner
Incense has been used since time immemorial for medicinal, meditation, and healing purposes. In many oriental nations, incense has impregnated in the common life. It is used for variety of reasons such as meditation, worship, or to simply give a positive and amiable ambiance to home.

Incense Cones
Incense appears in a variety of different fragrances, which are created from different organic plant materials, animal derivations and essential oils. It is primarily used for religious or spiritual, aesthetic and therapeutic purposes.


Dhoop Sticks
Dhoop is an essential part of ritual, which are imported from Nepal, Tibet, and some parts of Himalayans countries. It is prepared from various aromatic, medicinal, psychotropic botanicals, flowers, resins, and extracts.


Floral Incense
Incenses are available in different fragrance but floral are the most dominant of all. They are the gift of nature in the form of flowers and many other kinds of herbs.It is believed that flora incenses create relaxing atmosphere that soothes the mind and body.

Masala Incense
By the word "masala" we mean the incense is created in a way where natural ingredients such as balsam and a complex combination of oils and herbs are integrated together to form a 'dough' like mixture. This mixture is then applied on bamboo stick and lightly coated with sandalwood powder.

Nag Champa Incense
Nag Champa is an Indian traditional fragrance, usually found in various products such as incense, soap, perfume oil, candles and personal toiletries originating there. It is commonly used in holy places like in ashrams and temples.