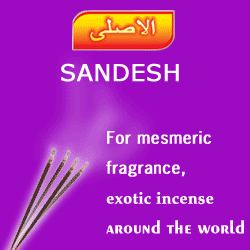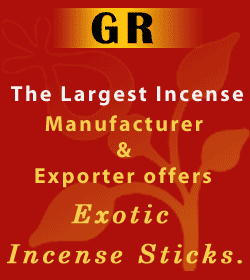 | | | |
| --- | --- | --- |
| | Cultural variation | |
| | | |
| --- | --- | --- |
| | Forms | |
| | | |
| --- | --- | --- |
| | Arena of Aroma | |
Padma Perfumery Works

Replenish your senses!
| | | | | |
| --- | --- | --- | --- | --- |
| Rose Incense | White Musk Incense | Al Oudh Incense | Sheik Al Arab Blue | Jasmine Incense |
| | | | | |
| | | | | |
Fruity Incense Sticks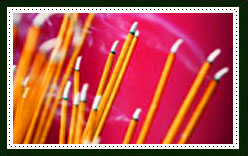 Since time immemorial, we burn incense sticks at our home, worship places and even work places. The experience of pleasant fragrance imbibes a positive feeling in us. Incense sticks are prepared using extracts of fragrant herbs, resins, fruits, flowers etc. The fumes of burning incense sticks facade the undesirable smell around us and allow us to breathe openly. The pleasant and refreshing fragrance of incense sticks soothes the mind and generates a feel good kind of environment. Aroma of incense sticks puts and indirect effect in our thoughts, by eliminating negativity it helps in developing a spiritual mood of sacredness, which is generally a calm and stable state. Under such a mind state, we are capable of concentrating more on our work. Owing to these benefits of incense sticks, it has become quite popular in aromatherapy and also a huge variety has emerge out in the range of incense sticks. As per aromatherapy, different fragrances has different benefits as they trigger brain cells or neurons. For instance, a particular aroma can increase your appetite, where as other can cure your blood pressure etc.

Types Of Fruity Incense Sticks & Proucts:

In the emerging variety of incense sticks, fruity incense products like incense sticks, dhoopbatti, agarbatti and incense cones are quite popular. As the name suggests, fruity incense sticks are available in the fragrances of different fruits. We all are aware of the variety of fragrance we get among fruits and now, by burning fruit incense sticks we can experience those fruity fragrances any time. In the market, we get choices like Cherry Incense Sticks, Lemon & Orange Incense Sticks, Mango Incense Sticks, Peach Incense Sticks, Watermelon Incense Sticks etc.

Properties of Different Fruity Fragrances:

Depending on our mood, we can chose the right fruity incense sticks, to compliment our state of mind. For instance, gratifying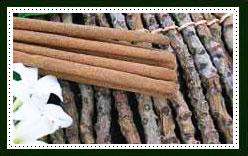 fragrance of red strawberry incense sticks symbolizes energy, whereas fresh fragrance of watermelon incense sticks gives a cooling effect. Likewise, mild fragrance of lemon and orange can act like energy boosters. The fragrance of the king of the fruits, mango, can be effective in cheering up the state-of-the-mind through its mouth watering aroma. Peach and cherry fragrance is very intoxicating and it enthralls the mood.

About fruity fragrances, the common idea is that, these all help in mood enhancement. So one can try them while meditation, however choosing the right fragrance is important, for this a professional aromatherapist can be consulted. Fruity fragrances are also favorite among children, so flaming it in a kids room will be a great idea.

We manufacture, supply and export different types of fruit flavored incense products like incense sticks, agarbatti, dhoopbatti, incense cones, and other incense products in India. Contact us to buy or for more information on any types of fruit flavored incense products.