| | | |
| --- | --- | --- |
| Home | | Make your first incense experience a healthy and safe one |
Make your first incense experience a healthy and safe one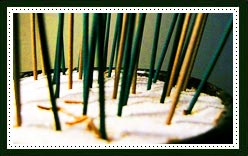 Just as incense invigorates and levitates your senses within minutes, it also has the potential to dampen or stifle an occasion if not used with care. Burning incense involves the use of fire and hence there are certain precautions that has to be taken before venturing onto your spiritual jaunt.

We've compiled a list of safety considerations which you should read before lighting any incense in order to make your first incense experience a healthy, delightful and safe one. Yes, most of them seem too obvious but it wont hurt to be reminded again.

First of all lets consider how to burn your incense stick properly to get the most out of it. Find listed below the complete guide to start with your first incense :
Light the tip of the incense stick.
As soon as the incense stick is ignited, gently extinguish the flame by blowing or fanning. You will instantly feel the aroma engulfing the room.
Check if the stick is glowing red and is burning evenly.
Place the incense in a proper stand.
Make sure you place the stand away from any flammable material or the innocent curiosity of children and pets.
To burn two or more incense sticks at a time, you will need to an "incense tree."
Safety Tips

Now that you are done with properly lighting your incense stick, let us go through a few safety tips to keep your incense burning experience safe and delightful :
Comprehend the fact that burning incense calls for cautiousness and carefulness as it may cause burns, blisters and even fire hazards.
In indirect burning methods, make sure you place your burner on a heat resistant surface as the burner will obviously absorb heat from the flaming charcoal. A very hot burner can damage or discolor wooden surfaces and shatter glass table tops.
Make sure the ash falls on a fireproof surface as it may even cause fire hazard.
Place your incense away from drapes, lampshades and any flammable material.
It is always advisable to burn your incense in a fresh, ventilated area.
Make sure that all the spent incense material are completely extinguished before disposing it off to the waste paper basket.
It is always advisable to check with your physician if you are asthmatic or have any respiratory problems or even if you are pregnant
Almost all coil, cone and rope incense comes with special stands/burner. If you're not sure, ask at the store where you purchase your incense.