Padma Perfumery Works

Replenish your senses!
| | | | | |
| --- | --- | --- | --- | --- |
| Rose Incense | White Musk Incense | Al Oudh Incense | Sheik Al Arab Blue | Jasmine Incense |
| | | | | |
| | | | | |
Chinese Incense Sticks



Incense in China is believed to have been introduced by the Buddhist monks from India during the late Eastern Zhou Dynasty (770 – 256 BC). Traditional herbs and woods were employed as incense ingredients. Gradually, the popularity of incense began to rise and by the time the Han Dynasty came to power in 206 BC, local herbs and spices were considered to be "poor man's ingredients" and huge amounts of foreign fragrance like grass, ginger, camphor, cinnamon etc flooded the streets of China. Traditionally, incense is called as xiang in China.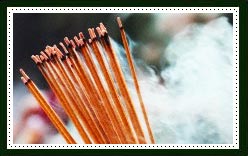 The prominence of the famous Chinese incenses started by the late Eastern Zhou Dynasty (770–256 BCE). These elaborately designed incenses had holes and openings in different shapes and sizes, and when incense were burnt inside them, the smoke appears like clouds or mist swirling around a mountain peak. They were used to perfume garments and bedclothes, and even to kill insects.

In traditional Chan Buddhism, "Incense Boards" were used to determine the span of meditation. These boards, often in the shape of a sword were lit and prayers or meditation were continued till the entire length of the board is exhausted.

Uses of Chinese Incense:

The Chinese evaluated the physiological and psychological benefits of these aromatic substances and used them extensively for their medicinal properties. Medical practices employing the curling smoke and exotic scents of incense, e.g Moxibustion, were quite popular at that time.
Incense sticks were also used as a measure of time in ancient China. These incense sticks changed their aroma after specific span of time. Some more sophisticated ones dropped a metal bell which acted as alarms. The use of these incense timekeeping devices are believed to have spread from the Buddhist monasteries into mundane society.

A few Methods used by the Chinese to Shape the Powdered Material into the Final Products: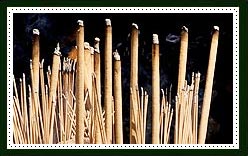 Lin-xiang : Incense powder is tossed over wet sticks
Nuo-xiang : Incense paste is kneaded around sticks.
Sculpting : For large incense pillars, incense paste is piled around a single bamboo stick and sculpted to shape
Winding : Incense paste is extruded and wound to produce spiral incense.
We are leading supplier, exporter and wholesaler of chinese incense, chinese incense sticks, chinese dhoop sticks, chinese incense cones and other chinese incense products. Contact us to buy or for more information on any types of chinese incense products.