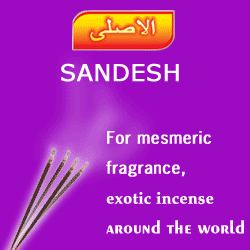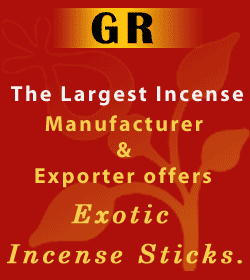 | | | |
| --- | --- | --- |
| | Cultural variation | |
| | | |
| --- | --- | --- |
| | Forms | |
| | | |
| --- | --- | --- |
| | Arena of Aroma | |
Padma Perfumery Works

Replenish your senses!
| | | | | |
| --- | --- | --- | --- | --- |
| Rose Incense | White Musk Incense | Al Oudh Incense | Sheik Al Arab Blue | Jasmine Incense |
| | | | | |
| | | | | |
Herbal Incense Sticks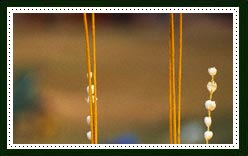 Herbal incense and incense sticks are probably the most widely used ones in aromatherapies for its numerous health benefits. The extract of various benefiting herbs like Lavender, Basil, Tea Tree, Nettle, Rosemary, Dandelion etc are used to obtain the respective essential oils, which are further used in aroma therapies. Than these herbs are also dried and powdered to manufacture herbal incense sticks, herbal incense cones, herbal agarbatti, herbal dhoopbatti and other herbal incense products which are rich in fragrance of different herbs. Herbal incense sticks can be lilted to experience the refreshing and relaxing aromas of the herbs and also to get their medicative values. These herbal fragrances give comfort at mental and physical level and also makes one feel more calmed and stable. After inhaling a particular herbal essence, it penetrates into lungs and also triggers the nerves and senses of brains. Each particular scent has its own power & characteristics and hence they find usage in different conditions. The only thing is to figure out which one fits and benefits you the most.

Following are Some Popular Herbs( with Their Benefits) Which are used to make Herbal Incense:

Lavender: Their essence have the highest capacity of relaxing ones mind.
Lily: Their essence has the power to slow down the heart rate and calms the nerves.
Patchouli: Its fragrance are helpful in strengthening the nerves. They are also a close substitute to the Indian cedar sticks.
Rose: The fragrance of rose sticks promotes spiritual healing and ailments. That is why they are very effective if lilted during meditation. Even while simply lying down it is good to inhale the essence of these sticks.
Basil: Its fragrance gives relief in headaches, migraines, and increases concentration.
Indian Cedar: Their essence is effective as anti-depressant.
Jasmine: Their fragrance helps in balancing the hormones in both men and women. This scent is also considered as an aphrodisiac just like chocolate, which is effective during sexual sessions.
Tea, Tree, Nettle, Rosemary, Dandelion are some other herbs used in making herbal incense sticks and other herbal incense products.
But not all kinds of herbal incense sticks are the standard ones. In market substandard herbal incense sticks are also easily available and they may endanger the respiratory system especially for those who are asthmatic. That is why herbal incense products and sticks should be bought from reputable dealers only. If you get for yourself, the standard incense sticks, than their essence will give harmony and a positive ambiance to your home.

We manufacture, supply and export all kinds of herbal incense, herbal incense sticks, herbal incense cones, herbal agarbatti, herbal dhoopbatti, and other herbal incense products from India. Feel free to send your query to buy or for more information on any types of herbal incense products.

Fill in the form given below to contact verified suppliers of a wide variety of incense sticks.