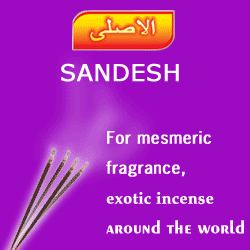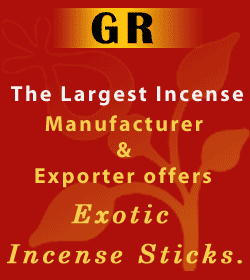 | | | |
| --- | --- | --- |
| | Cultural variation | |
| | | |
| --- | --- | --- |
| | Forms | |
| | | |
| --- | --- | --- |
| | Arena of Aroma | |
Padma Perfumery Works

Replenish your senses!
| | | | | |
| --- | --- | --- | --- | --- |
| Rose Incense | White Musk Incense | Al Oudh Incense | Sheik Al Arab Blue | Jasmine Incense |
| | | | | |
| | | | | |
| | | |
| --- | --- | --- |
| Home | | Tennendo Japanese incense |
Tennendo Japanese Incense


Although the advent of incense in Japan was comparatively late but Japanese soon turned the use of incense into a fine art. Special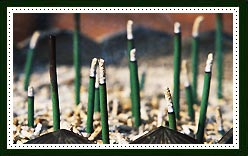 schools, called Kohdoh, were introduced which helped students learn the art of incense making, appreciate the fragrance and even learn the dances performed during incense burning rituals. They basically emphasized on using incense within a structure of codified conduct. It can take many, many years to master Kohdoh, sometimes even fifteen years or more.

The advent incense in Japan is often credited to the Buddhist monks, who came from China during the 6th century. The popularity of incense use began to rise gradually, as the Japanese people, esp the nobles, began to accept this as a new religion. Initially, both incense material and recipes were exclusively imported incense from China but it was not long before they mastered the art of incense making and began indigenous manufacturing.

Presently, Japan boasts of numerous word class incense brands that manufacture and export incense of different qualities and prices. One of the most dignified and distinguished names in the commercial Japanese incense market is Tennendo. Exemplifying a brand that manifest supreme quality, their expertise is second to none when it comes to producing premium quality incense with pure, natural aromas. If you buy incense made by this company, you can be assured it will be of high quality as each stick is hand-made from only the finest aloeswood, sandalwood, frankincense and other traditional ingredients.

Tennendo's processing way is an prodigious form of art in itself. They house some of the oldest and most prestigious "masters" who draws upon century old secrets to conjure an amazing array of fragrant jewels. These artificers process the quality, balance, and ratio of each component with kid gloves as even a trivial most variation in the amount or quality of any ingredient will dramatically influence the resulting outcome.

Product Range: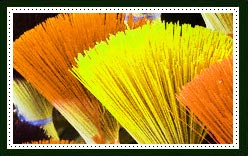 Find listed below the unique blends offered by Tennendo for creating a relaxing fragrant atmosphere every home.

Yoshino Hills : A traditional Japanese incense with a touch of Cherry Blossom scent.
Scent of Kyoto : A very traditional smelling Japanese incense.
Frankincense : This Frankincense comes from Oman under exclusive permission of the Sultanate of Oman.
Karafune : Tennendo's Karafune incense is a special combination of Sandalwood, Clove, Cinnamon, Fennel, and other scents.
Shingon : A wonderfully unusual sandalwood incense with a light musk scent.
Kohrokan Sandalwood: Tennendo has selected the best sandalwood for this collection and then packaged it in a beautiful golden box.
Renzan : Renzan is an aromatic collection of Sandalwood, Aloeswood, Clove, and Cinnamon that is sure to please you with its unique aroma.
Shorin : The best Aloeswood combined with other select aromatic woods to create a premium incense.
Tensei : A premium Aloeswood combined with other select aromatic woods.
Kuukai : The highest quality Aloeswood combined with other select aromatic woods.
Enkuu - Horizon: A Spicy Aloeswood combined with other select aromatic woods.
Karafune Johin - Bronze: A very sharp, spicy aloeswood incense.
Karafune Yuhin – Silver : Sweet and spicy aloeswood come together in perfect balance.
Karafune Kahin – Gold : A beautiful, sweet aloeswood incense.

Contact us to buy or for more information on Japanese Tennendo incense sticks, Tennendo incense sticks, incense cones, dhoop sticks, etc. by Tennendo.