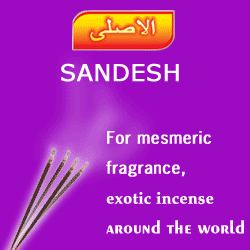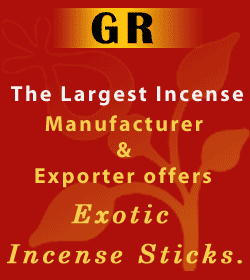 | | | |
| --- | --- | --- |
| | Cultural variation | |
| | | |
| --- | --- | --- |
| | Forms | |
| | | |
| --- | --- | --- |
| | Arena of Aroma | |
Padma Perfumery Works

Replenish your senses!
| | | | | |
| --- | --- | --- | --- | --- |
| Rose Incense | White Musk Incense | Al Oudh Incense | Sheik Al Arab Blue | Jasmine Incense |
| | | | | |
| | | | | |
| | | |
| --- | --- | --- |
| Home | | Modern day usage of Incense |



Modern day usage of Incense



The traditional usages of incense sticks have been carried on to the modern times also. Even today, incense sticks are burnt to have a calm and elevating atmosphere. The interest of the people in incense and related products has increased like never before. Owing to this, manufacturers and researchers are carrying out more experiments and new types of incense are getting discovered. The growth of the aromatherapy parlous is the most appropriate example of the modern age usage of incense. People have started recognizing the wonders of aromatherapy. With the growing demand, Aromatherapy parlors are set up in all the metros and other urban cities. These are usually the choice of well to do people, who go to these parlors and try to treat their stress and anxiety through the power of incense and aromas. The concept of aromatherapy is not a new discovery, it's there since ages, but at present it has been brought to the market in a most unique way. People interest in aromatherapy and their readiness to spend a large amount of money on it is the outcome of their growing awareness about the meditative benefits of incense. Further, many people have started taking aromatherapy as a professional line and they practice it to earn their lively hood.

Moreover, an innovate use of incense products is that, for the first time they have become a gift item. Ever before incense were considered as some thing that can be gifted to others But now days essential oil gift sets, Incense Gift Set have come to the market. Incense gift packs are the collection of incense sticks candles and diyas in a beautiful box. Incense Gift Sets are every attractive looking as they come in wonderful packets of different types, designs and colors. The over look of these incense gifts packs are very sophisticated.

Incense as a Commercial Industry

Today, Incense sticks have grown much bigger than just being a small scale Industry. In the national as well as in international market, Incense industry has drawn much recognition as a commercially benefiting platform. The market of incense has become very cosmic and also the demand of incense products like sticks, essential oils, dhoop, incense gifts packs etc have increased. The growth of incense industry in the modern times is not just regulated by commercial point of view but also has the impact of tradition and religion.

In the world wide Market of incense sticks, India is one of the leading players as it is fulfilling the more than half of the world's requirements. Export income has crossed 220 core and local market is also flourishing at a growth rate of 7% per years with the production rate of 80 billion sticks. In India, during festival seasons, the sale of the incense sticks goes high.

Government has taken the incense industry as a venture of providing employment for rural women. But, till now the market has not come under a proper planned manner. Only twenty percent of the market is occupied by planned company while the rest is controlled by small operators. The maximum growth of incense industry is because of the entrepreneurial venture of many private enterprises in the rural and semi urban areas. Because of the wide availability of raw materials and less involvement of complicated technologies and equipment, more and more people have acquired the confidence to start their own incense business. Moreover, the entry of corporate has further ease down the process. At a low cost people can avail to better tools of production. Earlier rural women used to cut bamboo with an axe leading to injuries, but now they have safe and fast working bamboo cutting machines.