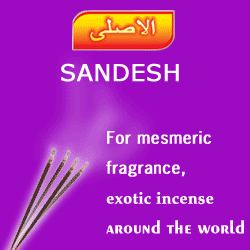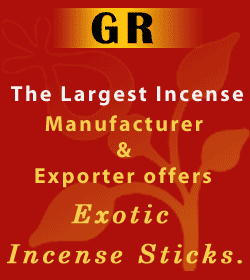 | | | |
| --- | --- | --- |
| | Cultural variation | |
| | | |
| --- | --- | --- |
| | Forms | |
| | | |
| --- | --- | --- |
| | Arena of Aroma | |
Padma Perfumery Works

Replenish your senses!
| | | | | |
| --- | --- | --- | --- | --- |
| Rose Incense | White Musk Incense | Al Oudh Incense | Sheik Al Arab Blue | Jasmine Incense |
| | | | | |
| | | | | |
| | | |
| --- | --- | --- |
| Home | | Incense & Health |
Healthy Incense



Incense is both injurious and beneficial for the health. It plays a very vital role in our day to day life. Incense is available in various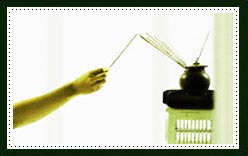 forms. They can generally be separated into "direct burning" and "indirect burning" depending on its usages. Preference for one form or another varies with culture, tradition, and personal taste. As mentioned before incense is injurious to our health also incense smoke contains various contaminants including gaseous pollutants, such as carbon mono oxide(CO), nitrogen oxide(NO),sulfur oxide (SO), volatile organic compound (VOC) and there is no question that smoke of incense can cause respiratory diseases, but the risk of those depends on the exposure.


Incense has been around for over five thousand years from back ancient period. The first piece of incense was probably a piece of wood such as ash; when it was burned it smelled good, and so people continued to burn it. Incense is used for many different purposes. It has been known to be used for prayer, worship, purifying air and uplifting emotions.

Several research indicated that burning incense in your house at least once a week during pregnancy made it more likely that the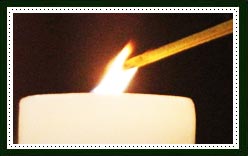 baby would develop cancer of blood-forming cells in the bone marrow when the child is born.
There are things that you can do to minimize the health risks posed by incense burning they are:
Use that kind of incense that is less smoky.
Don't burn it for as long so that it creates excessive smoke.
Ventilating the room or building onces you have used the incense so that it should not generate any harmful gases.
While the scent may be very relaxing and pleasant, you should keep in mind that it may cause health problems for you in the future. Try to keep your kids away from heavy incense burning so that it should not effect them.
You should also be careful when burning incense because if the stick should fall onto the floor, or something else that is flammable, it may cause a fire. From ancient period up to the present time, many people have enjoyed the soothing and pleasant smells that incense can bring.