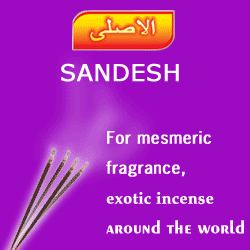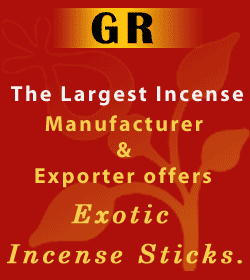 | | | |
| --- | --- | --- |
| | Cultural variation | |
| | | |
| --- | --- | --- |
| | Forms | |
| | | |
| --- | --- | --- |
| | Arena of Aroma | |
Padma Perfumery Works

Replenish your senses!
| | | | | |
| --- | --- | --- | --- | --- |
| Rose Incense | White Musk Incense | Al Oudh Incense | Sheik Al Arab Blue | Jasmine Incense |
| | | | | |
| | | | | |
| | | |
| --- | --- | --- |
| Home | | Fruit Agarbattis |
Fruit Agarbattis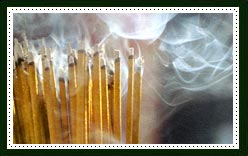 Agarbattis are an essential part of almost all occasions in India, spreading a divine fragrance that calms the mind and lifts-up the spirits. Amongst various types of agarbattis, the fruit agarbattis is one of the most sought after. It is manufactured using a traditionally blended paste which is made from the best ingredients and blended perfumes. These fruit flavour agarbattis provide a soothing fragrance throughout the day. Fruit agarbattis are purely made up of fruits only, and they do not contain any artificial flavor or any chemical.

Fruits are one of the greatest natural flavors. Their wisdom is relevant today, as it has been through the centuries. The fragrance of their divine power, the sublime glory of their verses carry the universal and eternal message of hope, love and joy of life.

In general, the Fruit Agarbattis are available in uncountable flavors, some of which are:
Apple
Apricot
Banana
Bergamot
Chocolate
Coconut
Grapes
Lemon
Mango
Peach
Pineapple
Raspberry
Strawberry
Tangarine
Watermelon
Cherry
Orange, and so on.
Aromatic Fruit Agarbattis cater to the various needs, ranging from religious, therapeutic to medical. Ideal to enliven the mood and refresh interiors, these agarbattis offer a fruity fragrance, which is unique and soothing.

Fruit Agarbatti Fragrances and Health:

According to a research, fragrances are very good for the body and mind. They actually help in improving the individual's mood along with making him / her feel better. It act as healing and preventative form of medicine. The smoke arising from the burning of Fruit Agarbatti, also assists in therapies like aromatherapy that is targeted to improve the health of an individual. In this therapy, different fruit scents are used, according to the different medical conditions of the person.

Fruit Fragrance Agarbattis are also widely used in the households as, on burning their smell is highly pleasant which assists in creating freshness in the ambiance.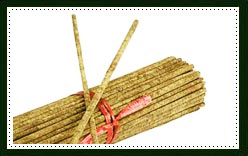 Packaging

Fruit Agarbattis are available in different packaging styles in the market. Some of the packaging styles which are widely popular, include rectangular boxes, circular boxes, tin boxes, etc. The packaging is done in such a manner that it has an elegant look and provides complete information about the type of agarbatti packed in. The sweet fragrances of the Fruit Agarbatti can also be smelled outside the packet.