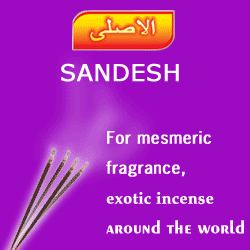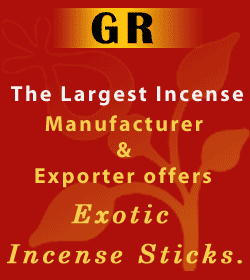 | | | |
| --- | --- | --- |
| | Cultural variation | |
| | | |
| --- | --- | --- |
| | Forms | |
| | | |
| --- | --- | --- |
| | Arena of Aroma | |
Padma Perfumery Works

Replenish your senses!
| | | | | |
| --- | --- | --- | --- | --- |
| Rose Incense | White Musk Incense | Al Oudh Incense | Sheik Al Arab Blue | Jasmine Incense |
| | | | | |
| | | | | |
| | | |
| --- | --- | --- |
| Home | | Incense Gift Packs |
Incense Gift Packs
Joy of Giving Gifts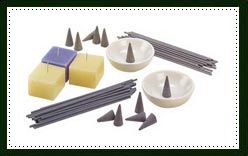 All of us have experienced the joy of receiving gifts, especially surprised gifts. Small or big, gifts are always a token of love that we like to admire. Not only receiving gifts but also giving gifts to others is an overwhelming feeling. It feels good to see the expression, when your loved one eagerly opens the gift pack wondering what's there inside and then suddenly rejoices seeing the gift. Few people need occasion to give away gifts, where as few don't need any reason; whatever selecting giftsis always a tough job. Similarly incense gift packs are also some of the lovely gift items which you can gift to your friends and relatives on any occassion, especially festivals.

Every time we decide to gift some one, we want to present the best thing. We usually calculate many things like: will the person like it, will this gift be usable to him or does he already have it etc. Very few times, it so happens that we are quite sure of what we want to buy, otherwise encountering confusions and dilemmas is a common experience that we come across, while deciding our gifts items. Such confusions are more prominent in occasions like Diwali, Holi, Christmas, Corporate events, etc; in such occasions, we plan to give presents to a large section of people. We want our gifts to be different from the usual range that the receiver can easily think off.

New Gift Option - Incense Gift Packs

Incense gift set or incense gift pack is a collection of incense sticks, candles and diyas in a beautiful box. Probably, each and every house hold has the habit of burning incense sticks on a daily basis. Incense are burnt for their refreshing smell, health benefits, hindu worship ritual etc. When incense sticks are such a daily required item, these are an ideal option as a gift also. Moreover, the incense gift packs are very attractive looking as they come in wonderful packets of different types, designs and colors. The over all look of these incense sticks gifts packs are very sophisticated. It's not necessary to burn the incense; they come in such wonderful packets that one can just keep them as show pieces as well. But of course, lighting them and getting their refreshing fragrance is always a better idea. A wide variety of incense gift packets are available in the market. A few of them are:
Gift Packs of Incense Sticks
Gift Packs of Incense and Candles
Gift packs of Incense and Diysa
Combination of any of these three
Moreover, now a days more and more innovations are coming up in the range of incense gift packs. These gift packs are available in different prices and most of the manufacturers offer the facility of customization, where they design the gift pack as per the specification of the customers. Next time when you plan to buy gifts, try out incense gift packs. These are readily available in different gift stores.