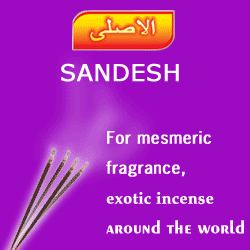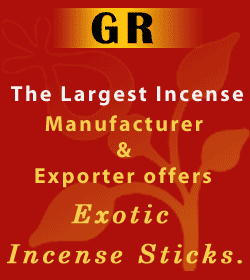 | | | |
| --- | --- | --- |
| | Cultural variation | |
| | | |
| --- | --- | --- |
| | Forms | |
| | | |
| --- | --- | --- |
| | Arena of Aroma | |
Padma Perfumery Works

Replenish your senses!
| | | | | |
| --- | --- | --- | --- | --- |
| Rose Incense | White Musk Incense | Al Oudh Incense | Sheik Al Arab Blue | Jasmine Incense |
| | | | | |
| | | | | |
Fancy Incense Sticks
Types of Fancy Incense Sticks: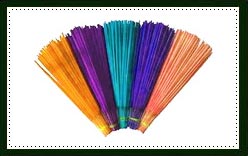 Burning incense sticks can be very beneficial in generating a positive, lively and spiritual environment around us. Under such an atmosphere, we feel more relaxed, involved and can concentrate in whatever we are doing. Revitalizing the mind using the power of aroma, to attain peace and relaxation and therefore, dominantly used in aromatherapy. At your home or work place, you can experience the goodness of aromas, simply by burning incense stick beside you. In the market, a wide range of incense sticks are available to choose as per our requirement, taste and benefits we are looking forward. There are incense sticks based on the fragrances of flowers, fruits, essential oils, various herbs etc. The latest and quite popular incense sticks in the market is the range of fancy incense sticks. In this category one can experience some real exotic fragrances like White Musk, Vanilla, Pleasure, Myrrh, Frank, Erotic, Amber's Sandal, Amber etc.

Qualities of Fancy Incense Sticks:

Myrrh fragrance is a unique, spicy kind of fragrance. It is a dried oleo gum resin of a number of Commiphora species of trees. Since ancient times, it has been valued for its fragrance and its medicinal qualities as an aromatic wound dressing. The fragrance of Myrrh is also found in many of the earliest varieties of English roses such as, Buck rose, 'Distant Drums,' the dwarf sport of Félicité Perpetué, 'White Pet,' and the rambler 'Long John Silver.' Myrrh smell is said to have aphrodisiac properties. To emulate the scent of deer musk or other natural musk, chemists have developed a class of synthetic aroma chemicals. White musk has a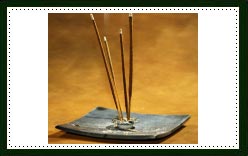 clean, smooth and sweet scent, which is more pleasant than deer musk, because it doesn't have the fecal/"animalic" notes of natural musks. The cent of white musk is very masculine. The fragrance of Pleasure incense sticks, encompasses ever feel of being in pleasure. Its scent is builds up an atmosphere which can be related to fun, happiness and sweetness.

All these fancy fragrance incense sticks, agarbatti, dhoopbatti, incense cones are widely available in the market and sold under various brand names. Now a days manufacturers are experimenting a lot and bringing up new range of Fancy Incense sticks. As Fancy Incense sticks compromises a large variety, irrespective of the fact that its a flower, fruit, herb, animal or tree originated fragrance, so one can try out different brands to get hold of some unique aromas.

We manufacture, supply and export different types of fancy incense sticks, agarbatti, dhoopbatti, incense cones in India. Conact us to buy or for more information on any types of fancy incense sticks and products.